Access Control and Security Solutions BioPro MV30
BioPro MV30 is a time attendance and access control terminal for face and fingerprint verification. Using ZK lastest ZKFACE 7.0 high-speed face recognition algorithm, it has extremely high verification speed and low error rate, and is able to effectively prevent duplicated registration.
Features • 2.8-inch color display with graphical UI for easy operation • Effectively prevent duplicated face registration • Multiple Verification Modes: Multi-verification methods providing user various choices • Full Access Control Features: Anti-passback, access control interface for 3rd party electric lock, door sensor, exit button, alarm and doorbell • Good Performance in Dark Environment, Infrared optical system enables machine to work well at night • Built-in auxiliary input with enhanced flexibility to link with wired detector or emergency switch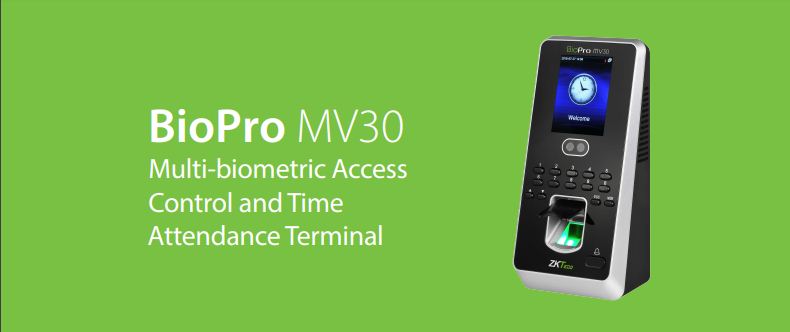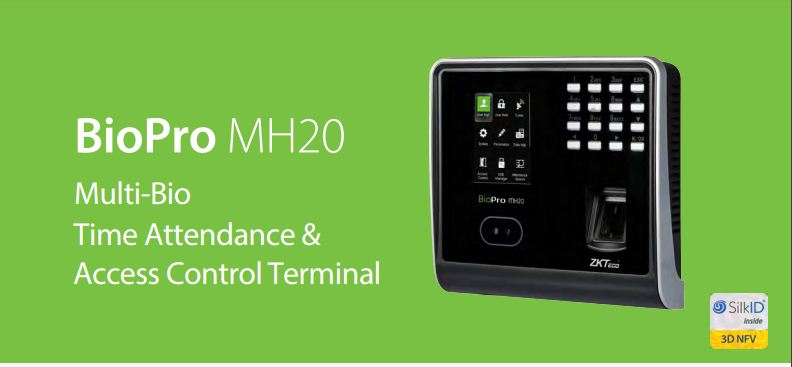 BioPro MH20 is the first ever Time & Attendance and Access Control Terminal to be associated with SilkID Fingerprint Reader, Face Recognition and RFID Card (optional) functions. With the new SilkID Fingerprint Reader, the operation remain stable under strong light source and high preciseness of verification of wet and rough fingers. With the innovative features, BioPro MH20 is bringing you the whole new experience.
Features • Multi-biometric Fast Verification • Stable operation under strong light source • Infrared Auto-turning on function to save power • Quick recognition of dry, wet and rough fingers • Multi-language supported • Built-in 2000mAh backup battery to extend operation time